Bike Touring Adventure at...Las Vegas?  Absolutely!
Published on
Oct 16, 2016
Travel Ideas for Bike Friendly Las Vegas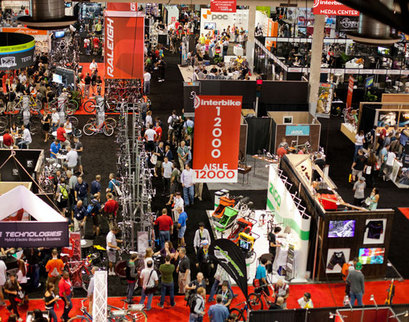 When bike folks think of Las Vegas and bikes their first thought is of the largest annual meeting of bicycle industry leaders known as Interbike.  "
The annual Interbike International Bicycle Exposition is where the bicycle industry gathers to celebrate, educate and conduct the business of cycling.  Bicycle retailers, media, importers and distributors can discover the latest in bicycle technology, including bicycle demos at the largest 2-day demo event for the trade –
OutDoor Demo
".
​
Yeah, pretty awesome whether you're a customer or a vendor it's considered the most exciting event the bike industry has to offer.  However, Interbike is held only a few days out of the year so is there any good reason for a bike travel enthusiast to want to visit what has been dubbed "Sin City"? This article highlights just a few reasons that hopping on a bike and touring around Vegas could be one of the most fun and rewarding travel ideas many bike folks wouldn't consider.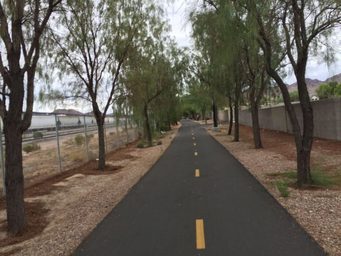 Las Vegas is Bike Friendly?  Bicycle repair author, frame builder and regular Interbike attendee Lennard Zinn has been riding the twenty seven miles from Las Vegas to Boulder Canyon's outdoor bike demo for the past ten years and says "every year it gets better".  Why?  Because nowadays there's a twenty five mile paved bike path from Vegas to the River Mountain Loop Trail where the Interbike Outdoor Demo takes place.  "
What's not to like about a shaded, tree-lined trail along a railroad in a sunbaked city? Photo: Lennard Zinn | VeloNews.com"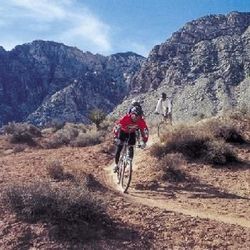 Of course, if you're looking to get off the pavement and onto some dirt the coordinators of Interbike have selected some of the best mountain bike trails in the country for their annual display of bike industry leaders wanting to show off their latest and greatest rides.  
Want to simply grab your bike and leave for Las Vegas without making a whole lot of travel and activity plans?  Guided mountain bike tours are available like that pictured at left of
McGhie's Las Vegas Mountain Bike Guided Tour.
There are also many hotels and bike shops that rent bicycles for you to conveniently get some exercise while visiting Las Vegas.  Visit
Vegas.com
 to search those types of
specal offers and deals
.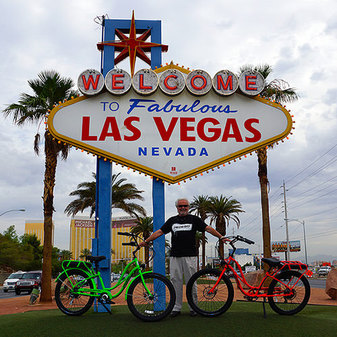 I know that some folks, bike enthusiast or not just want to see Vegas from a unique perspective that can add to their vacation enjoyment.  From a photographer's point of view I wanted to know just how bike friendly Las Vegas is.  Well here's a nice tid bit of information 
Las Vegas increased its bike network by more than 23 percent to 444 miles of bike lanes and 102 miles of paved off-road trails and installed bike parking racks throughout downtown.  The League of American Bicyclists awarded both Las Vegas and Henderson with their bronze award in recognition of the closely knit communities efforts to encourage bike enthusiasts to visit the tourist based area.  

That's what I like to hear when considering a bicycle touring or bike travel destination, particularly when planning logistics for photography opportunities.  I have found getting around town by bike is the most versatile and efficient methods of transportation regardless of what town it is and more often than not offers picture opportunities that I wouldn't have otherwise considered or seen if I was in a motor vehicle.  Businesses like that of Pedego Henderson understand this and offers electric bike rentals and tours of Henderson, Las Vegas, Lake Mead and Boulder City.  

Whether you're interested in epic mountain bike rides, long, scenic road touring or just want to get out on the bike while playing in Las Vegas there is a bike and terrain for your every whim.  Visit Vegas.com for more information when planning your next bike touring adventure whatever that means to you.

Escape Adventures
offers a variety of mountain bike tours, road tours and many other options for bike touring enthusiasts of most all skill levels providing many ways to see the sights of Las Vegas and the surrounding areas.  Click on photo for more information and if you plan on going to Vegas to party and exercise you might consider stopping up on some healthy performance supplements like that from redace organics where our visitors can now get an
additional fifteen percent off
their purchase.