Affordable Quality Products for Bike Touring & Commuting
Published on
Oct 31, 2016
Selection of Bicycle Accessory Products
"You can't buy happiness but you can buy a bicycle and that's pretty close". Most bike folks and those considering taking up bike commuting, touring or recreational riding can relate to to that quote. One of the reasons it's "pretty close" is that lots of folks after purchasing their bike for its' intended purpose find themselves needing a few more items to fulfill their bike's ability to meet their needs. After four years of blogging, riding, testing products and reviewing them here is our list of our favorite affordable quality products.
Front and Rear Racks for Bicycle Touring and Commuting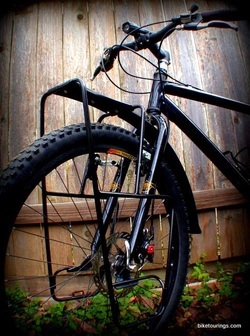 A few years ago while designing and building our kinda fat mountain bike as an all terrain utility rig that could navigate an area without designated bike routes we had a difficult time finding a steel front rack to meet our needs. I was looking for a design which provided low rider positon of panniers and a top deck for either strapping a tent or sleeping bag to or to support a large handlebar bag or basket.
After comparing cost, weight and other specifications I was pleasantly surprised to find the
MT-4000SF front rack
from Minoura. Not only is that rack disc brake compatible it comes with hardware for mounting to either standard or suspension forks, will fit 26" to 29" wheel sizes and mounts to the axle with an extra long skewer making installation easy yet very secure. Here's link to my
review of that rack
from three years ago.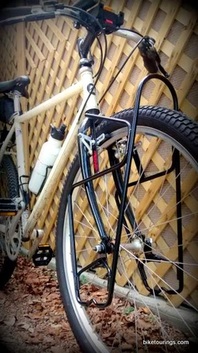 After being very happy with the first Minoura front rack I decided to try another rack in the
FRP-3000,
a traditional low rider front rack for my road touring bike, weighs much less than the MT-4000SF and includes same mounting hardware with axle skewer and brake post mounting hardware.
I have had both of these racks for three years now and very much appreciate the quality steel front racks provided by Minoura with a price tag that is unmatched by anything comparable.
Here's a link to my initial
review of this rack
that I have installed on both a 26" Bridgestone MB-1 converted to a touring bike and my 700c touring bike.
Here's a link to another
informative review
of these racks shares some ideas of optionally mounting the rack to the a threaded touring bike fork rather than the brake bosses.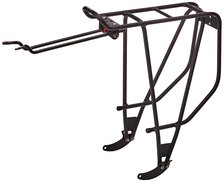 While Minoura provides favorites in terms of front bike racks axiom continues to deliver some ultra solid load carrying capacity with their rear racks. I've installed many axiom racks for customers over the years and since the introduction of the
Streamliner DLX rear rack
for disc brake equipped bikes installation couldn't be easier. Here are a few main points to consider from their product description:
A lightweight, low profile solution for mountain, commuting and fitness bikes

Ultra-narrow profile improves aerodynamics, keeps load closer to center and greatly reduces bag "swing"

Hand-welded 10.2mm tubular 6061 T6 alloy construction

Fits 26" and 700C wheels

Ample space for MTB and Hybrid/Trekking fenders
At our shop the most popular is the
axiom Journey
for bikes that don't have disc brakes.
Panniers and Bags for Bike Touring and Commuting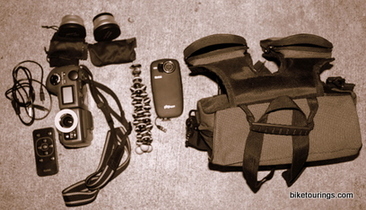 Due to the simple fact that I like to ride different bikes for a variety of reasons it is nice to be able to swap panniers and bags from one bike to another. That quality of versatility is something I look for when considering and sifting through many of today's bike touring and commuting pannier and bag options.
For example a handlebar bag which mounts with a quick release bracket can only be used on the bike to which the quick release clamp has been installed. Some manufacturers offer an additional clamp at additional cost of course. The same can be said about some panniers with locking mechanisms which limit the ability to swap panniers around to the front or rear racks as preferred or needed. This is not to say that some of the more popular products from Ortlieb, Arkel and the like are not of excellent quality but to say that there are some other options in affordable quality panniers that can lend some added versatility compared to others.
Photo above is of a very
inexpensive handlebar bag
that just so happens to fit most all my gear for "some" professional quality photography and blogging gadgets including a tripod, tablet, camera, cables and rechargeable power pack. Here's a link for a
review of that handlebar bag
. It's design provides a very convienient option for swapping the handlebar bag from my touring bike to my mountain bike for bike packing and even on a folding bike for travel. Very versatile indeed and after two years of lots of use it is holding together extremely well considering how rediculously affordable that bag is.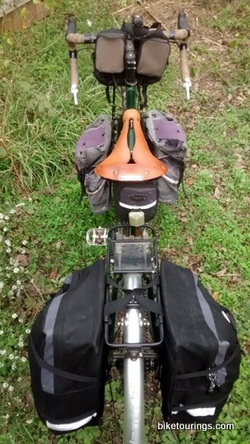 ​Axiom products continue to prove to be an exceptional choice of quality and value. Unfortunately, Axiom has discontinued their Cartier panniers (front panniers in photo at left) which are still providing dependable service after ten years of use. Fortunately they have introduced the
Seymour DLX panniers
available in two different sizes both of which can be used as front or rear bags and although those panniers now have the Rixen and Kaul latching mechanism for attaching the top of the pannier the very heavy duty steel hook and bungee are used to secure the bottom of the bag making for a versatile yet secure attachment system.
Another very impressive option in that same series is now available in a waterproof material called their
"O Weave" series
. It's a complete line of various panniers and bags of varying capacities for different uses. Another thoughtful idea is that the interieor of the waterproof design is a red interior for enhanced visibility inside their bags and panniers.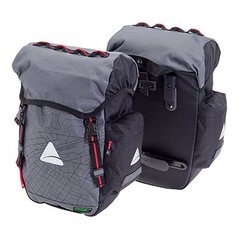 Axiom's O Weave Seymour Panniers are some of the first affordable quality waterproof panniers to become available from a reputable company of proven reputation that stands by their product with an excellent warranty. Here's a quick description from their product listing: "Made from
recycled fishnet polyester with waterproof polyurethane coating; Red interior liner on back-plate protects contents from scratches and improves internal visibility; Daisy-chain webbing for additional tie-down options".

We're excited about testing a couple of these items based on our experience with axiom's innovative quality.
Rechargeable Lights for Bike Travel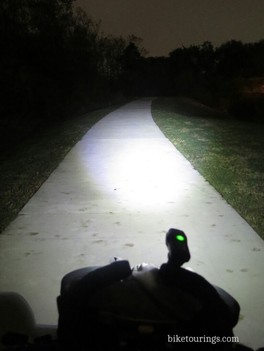 A favorite around here are any bike lighting products from
Cygolite
. With a rechargeable USB connection I can simply connect a
Cygolite Metro
front light to a
Zendure power bank
if for whatever reason the battery should get low. I've been using the Cygolite Metro for my night time bike commutes and for bicycle touring with ability to recharge via USB cable and
solar kit
.
We have found most if not all Cygolite products to outperform other bike lights based on battery run time, lighting options and overall brightness.
Last year I received a
Blackburn 2 fer front or rear light
for review which is also USB rechargeable and can be used as a headlight for camping. It's very small, lightweight design and multi mode functions make for a nice bit of kit just know that the battery time is lacking.
Rain Gear for Bicycle Touring and Bike Commuting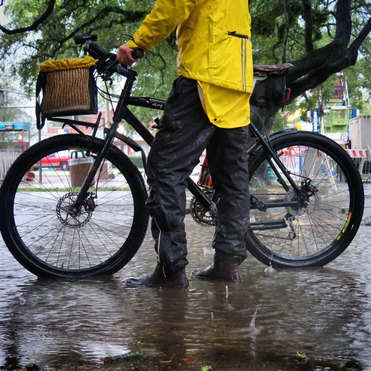 I have tried so many different types of materials from various brands and manufacturers but they fell short of the quality I wanted or had an absurdly high price tag. Now that I have found a rain gear kit that truly keeps me dry I don't mind riding in wet weather at all.
For the past couple years I have been more than satisfied with the performance of my
Bellwether Storm Front Jacket
with a drop down butt cover combined with a pair of
Tenn Outdoors Waterproof Cycling Trousers
.
Photo at left shows how much rain we frequently receive along the Gulf Coast and having good quality rain gear makes it fun and easy to ride.
While I continue with this blog look for more fun and effective ways to improve your rides whether it's more bike commuting or bicycle touring we effort to have you covered.
Link related to this topic:
Multi day Bike Touring Kit
​