A Folding Bike that Fits for Bike Touring or Commuting
Published on
Aug 01, 2017
How to Select a Bike for travel, Fold It!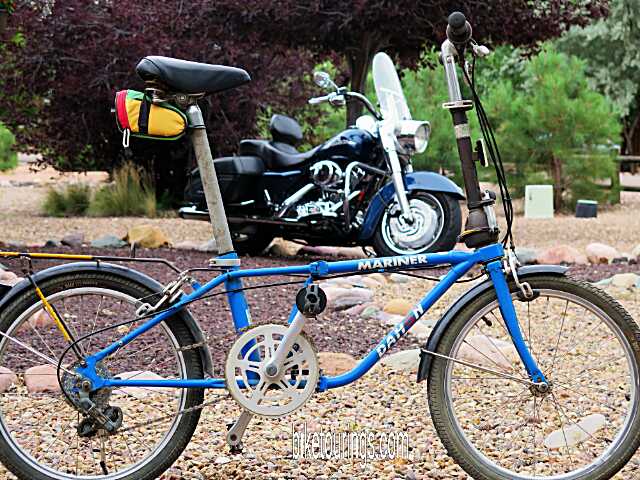 Bigger isn't always better, say hello to my little friend, '98 Dahon Mariner five speed folding bike for travel.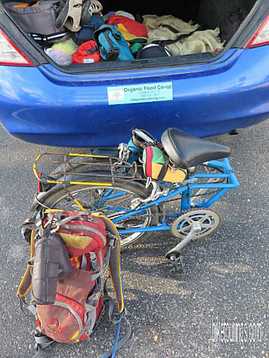 My mission if I chose to accept it was to drive Lisa's seventy six year old mother (Grandma Lynn) from our home in League City, Texas back to her home in Phoenix, Arizona via a lengthy scenic route.  
Lisa planned out a nice road trip vacation for her mother which consisted of visiting some of her mother's favorite areas including Santa Fe, New Mexico with the arts and crafts scenes that area has to offer while staying a night at nearby Madrid, a very eclectic if funky little town.  From there we would drive to Lisa's mother's cabin in Heber Overgaard, Arizona and then drive her home to Phoenix on our return drive home. 
Sad as it is, Grandma Lynn is experiencing some early stages of dementia which is just one of the reasons I was asked to do most of the driving, that and I'm simply an excellent driver.  : ) Anyhow, knowing how much stuff the gals tend to pack for a vacation (Grandma Lynn, Lisa and a teenage girl) I decided to see how full the car was before I selected a bike and 
bikepacking kit
. Ironically while I assessed which bike to bring Jennifer Campbell asked me to share her informative piece on
How to Choose a Bike According to Science, 10 Factors to Consider
.  It's a pretty good read although there is no mention at all of folding bikes for travel. 
Four years ago I visited Grandma Lynn's cabin at Overgaard, Arizona (
blog post here
) and had such a nice time I thought next time I would bring a bikepacking kit for the Tall Timbers Trail Park.  That's what I had in mind and figured it would be alright to squeeze in one overnighter along the way.  Unfortunately, the trunk lid of the little Nissan Versa flexed too much with the bike on the
Saris Bike Carrier
.  Plan B, which is what I keep the old
Dahon Mariner
folding bike for and the fact that it doesn't require any precise bike fit consideration for the rider I can always fold it down and throw it in.  (Older post regarding this bike is
here
.)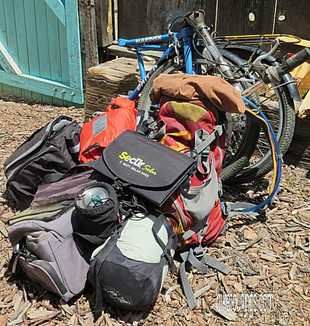 As simple as that seems to be able to do, not having a full sized bikepacking or touring bike frame for packing gear on might imply a bit of a challenge.  For bike commuting and urban touring I used a handlebar basket and a hydration pack with the little folder but packing a
tent
, poles, sleeping bag, pillow,
air mattress
,
photography kit
and some food seemed a bit daunting of a task and of course how would the ride feel once the gear was packed on to the little bike that could?  
Photo at left of my typical
kit for bike touring
that includes a solar panel for charging camera batteries, a power brick, tablet and phone.  A very small cooking kit mostly for boiling water.  I kinda stood there looking at that mess for awhile before unfolding the bike.  I brought a couple handlebar bag options (nothing fancy) and was glad I brought my hydration pack designed for mountain biking and trails due to the fact that other than the rear rack trunk bag the old Dahon doesn't have a water bottle holder and July in New Mexico requires ample hydration.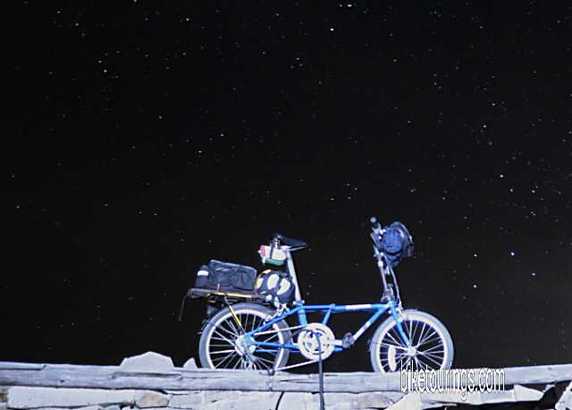 Fortunately, it all came together quite nicely providing a stable, balanced kit good enough to balance the bike on a narrow rock ledge.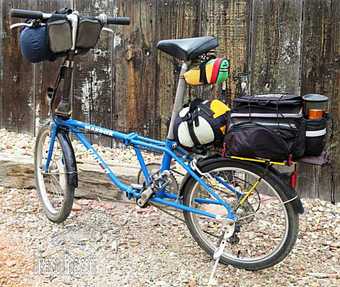 Photo at left and above show how I got everything to fit on the bike without having to use panniers so it is more of a bikepacking kit than what is typically considered a bicycle touring set up.  Keeping in mind that I used a decent sized
hydration pack
for miscellaneous items that wouldn't fit on the bike.  
That inexpensive handlebar bag has proven to be very versatile and useful as a bikepacking kit item as I was able to stuff my sleeping bag and pillow into the Outdoor Research Dry Bag and used the straps of the handlebar bag to secure it.  I was able to fit my tablet, power brick, assorted cables and a mini tripod in the main compartment while the two pockets on left and right held my phone and Canon G 16 camera.  Behind the seatpost is the Seat to Summit Compression Dry Bag with my Alps Mountaineering Lynx 1 Tent.  Rear Trunk bag has external pockets with assorted snack food items, small cable lock and cinchable water bottle holder.  On top of the trunk bag I secured the solar panel for charging device batteries and power brick while the main compartment of the trunk bag was able to fit my bed mattress.  Seat wedge bag held a spare tube, patch kit and a few tools.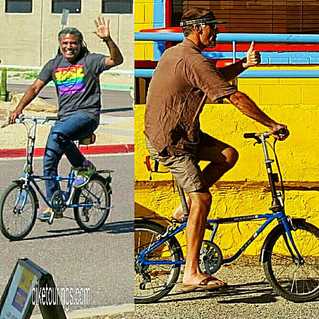 I'm glad I had an opportunity to experience some new variations on bikepacking and bike touring with a folding bike for travel.  Not only was it the perfect bike in a fun little town like Madrid, New Mexico populated with artsy craftsy folks who appreciate the style and uniqueness of a folding bike I was also able to experience how well it would perform for fun recreational sight seeing rides and as a get around bike for my
photography
.  While in Phoenix I had an opportunity to visit the
Bicycle Nomad Cafe
and owner Erick Cedeno after riding the little old Dahon Mariner said "it rides better than it looks, I always wondered about these types of bikes."  
This folding bike being touted on this post is a '98 Dahon Mariner five speed.  It's mostly all original with stock components with the exception of a new chain and free wheel gears as I wanted to diversify some gear ratios for trails.  Another modification was replacing the 20 x 1.5 street tires for commuting with some better quality 20 x 1.75 tires like these from
Schwalbe
.  Interesting that the reputable company which has been providing high quality bicycle touring tires made the
Marathon Plus
available in a size to fit folding bikes like this.  Also, the tread pattern provides just enough grip for some off road excursions which I found to be very useful in areas where I wanted to get some photos with the bike.   So to wrap up, as much as I wanted to bring my sorta fat bike for the trails previously described it turns out that the appropriate bike for our summer vacation proved to offer plenty of fun and a good conversation piece.  If you're reading this post in consideration of getting a folding bike to add to your riding options I definitely recommend it for their sheer versatility and convenience when a full size bike isn't an option under some traveling circumstances.  
While writing this post I received yet another email from the editor at "
The Folding Bike Zone
" where they consider a folding bike to be the best bicycle for your commuting needs.  Sure their a bit biased : ) everyone has varying commuter needs but their five reasons why they consider it to be the best choice may just help with your purchasing decision if you're someone in the market for this type of bike.  
When it was all said and done and I drove over a thousand miles in one day to get us home on time, Grandma Lynn is home safe and sound, I got some excellent photos for my bike touring stock images collection while putzing around on a silly little bike that made me smile.  Until next time, keep on riding even if you need the convenience of what many consider to be a fuddy duddy folding bike.  
Links Related to this topic
Folding Bike for Travel
Dahon
These EDiscoverpic UK Road Trips [Infographic]
The UK may not have road trips like you see in the movies, but there are many scenic routes throughout the UK that are worthy of the big screen. With more national parks and areas of outstanding natural beauty than you could ever visit you can easily discover a route that will become an unforgettable road trip.
Despite being fairly short compared to more famous road trip destinations the UK still has a couple of fairly long road trip opportunities, we won't spoil the below graphic by mentioning them quite yet, but if you want a whistle stop tour of England or Scotland then a couple of the road trips could be a perfect fit. Or if you're after something short and snappy then other trips offer exactly that.
So without further introduction here are the 5 UK road trips put together by
De Vere Hotels
for your driving pleasure: