Ten Essential Bike Touring Gear Items for Women
Published on
Oct 28, 2017
Guest Post from Sophie of Best Bikes for Women
When Sophie sent me her content I thought about adding some pics of Lisa instead of using Sophie's pics. After all we've been through together this year with Hurricane Harvey, helping folks in need via our food co-op and store, then the Astros just won the World Series last night and poor Lisa's sick with a fever as I write this. So, enjoy this post as its' more about honoring a very beautiful person in our community who happens to be a woman. Each item has a link to an associated blog post. Enjoy!
"Let me tell you what I think of bicycling. I think it has done more to emancipate women than anything else in the world. It gives women a feeling of freedom and self-reliance. I stand and rejoice every time I see a woman ride by on a wheel…the picture of free, untrammeled womanhood." Susan B. Anthony
"Ten (plus one) Essential Lightweight Bike Touring Gears for Women"
By trade, I'm a bicycle mechanic and sales woman. I have spent most my life being adventurous with friends, whether by means of riding our bikes miles away from home or camping at a new location, in which nobody was familiar. I want to share a few tips that I've learned through these experiences so that, if you are considering taking a bicycle and traveling a great distance, your adventure will be more comfortable.
Generally speaking, these pieces of advice can be broken into finer points depending on what kind of adventure you are about to embark on so, take this list as a jumping off point; a grocery list of items you will need before touring. Here are ten essential, lightweight bike touring gears for women: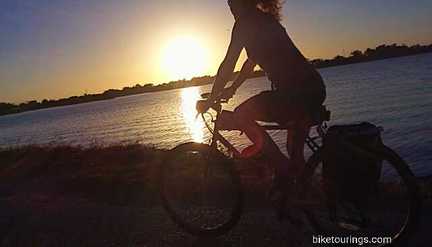 ​
1. BIke
Clearly, the most obvious part of this 'touring with a bicycle' article should mention the type of bicycle you need. My recommendation of bike will include one that has eyelets (or places where racks can be screwed into the bike frame are possible). Another thing to be mindful of when choosing a bike is wheel size. Your height will determine how large of a wheel/tire you are able to use on your bicycle. The rule of thumb is that the larger the tire, the easier the travel. To that point, the tread of the tire will make a great difference as well. Find a wide tire and one that's meant to be travelled on the road. Ask your local bike shop about tires for bike touring.
Traditional Touring Bike vs Bike Packing Rig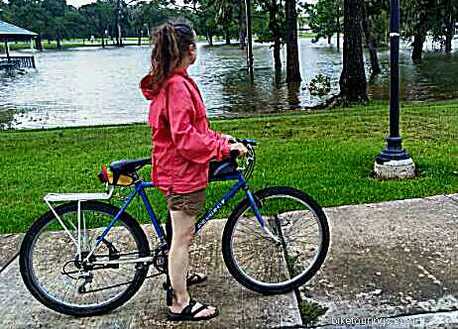 2. Waterproof Jacket
Jackets, perhaps, may seem obsolete while you are packing and sweating from being indoors and gathering everything you own in order to see what fits inside a bag and what does not, but having a waterproof jacket with you will save you a lot of headaches on the road.
​The jacket I would recommend is: one – find something that has reflective fabric on the arms and/or back. Two – find a jacket that can zip all the way up/down so you can control your body's temperature. Three – find a jacket that can be folded into its own pocket. This not only a great space saver, but could be used as a pillow when you're ready to bunker down at night and fall asleep. Other kinds of clothing you should consider bringing are: socks that pull sweat off your skin, gloves so your hands will not feel overworked, and padded shorts so you can sit in the saddle all day without feeling too sore.
Rain Gear for Bike Commuting
Tenn Driven Cycling Pants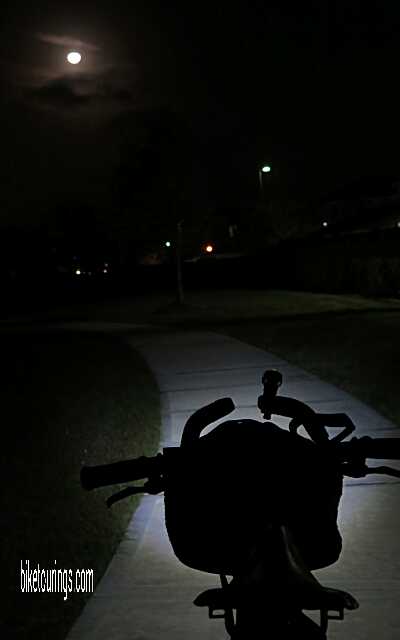 3. Bike Light and Other Gadgets
When you're tired from riding and find a place to setup camp, time is of the essence. As you find and gather firewood, setup camp, or are even still riding to get to the camp grounds, having a light attached to your noggin will be a lifesaver. It will free your hands for the work that's yet to be done. Click here for review of Cygolite and optional helmet mount.
4. Multitool
As a mechanic, I use my multitool all the time for things not associated with bicycles. My advice would be to bring a multitool to take care of your bicycle and a swiss army knife to take care of yourself. Multitools are very lightweight and generally run about $8 to $10. Another light weight, but vital tool to bring, is a tire lever. This will help you get road tires off of their rims efficiently. (To that end, bring a spare tube and a hand pump, too!)
Multitool Review
5. Computer
This bicycle computer is not the same one that's sitting on your table at home. The most basic bicycle computers are equipped to track a number of things including: GPS, cadence, global maps, navigation, and speed to name a few. These pieces of information will help you as you find your way. Cadence (fancy word for how often you pedal in a given period of time), in particular, will help you track your level of exertion over the course of a route. You need a computer to keep up with your cadence so you can control your energy output.
6. Hydration
​Water will be one of the heaviest things you carry and one of the most important. Standard water bottle cages will not be suffcient (again, depending on your journey), so get a cage that can hold a bottle with at least one liter of water per bottle. (It's worth mentioning, check your bike to make sure water bottle cages can be mounted onto the frame itself. Most mounts will be on the down tube and the seat tube.) Additionally, bring some powder electrolites or chewables so you can add it to your water if you feel your energy getting zapped. Or some folks like to use a cycling specific hydration pack like that in photo above and some are designed specifically for women.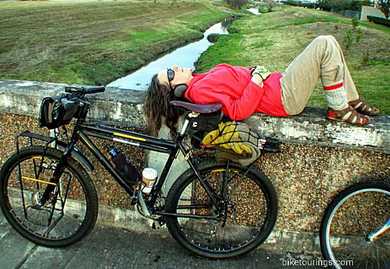 7. Bike Bags and Panniers
You guessed it, everything you want to carry will be stacked into these little compartments and loaded onto your bike. You can find the size of panniers with the help of a local bike shop (again, give them detail about how long you will be on the road). It's likely, you will need at least 2 and maybe up to 5 panniers. Two will be placed adjacent to the back tire and two more adjacent to the front. The last can sit, either, under the saddle or infront of the handlebars. The panniers will be attached to a particular bike rack and this rack will be screwed into the bike frame itself. (Remember point number one?)
Affordable Quality Waterproof Panneiers
8. Sleeping Equipment
I write "sleeping equipment" as a point because it entails more than just a sleeping bag. While the sleeping bag is important, you will also need a special type of mat to lay underneath the bag as you sleep. Unless you are under the age of twenty, your body will not feel reseted without this padding. Stores offer special kinds of sleeping mats or you may want to try a yoga mat as an alternative.
Bike Touring Sleeping Bag and Thermarest
​
9. Kitchen Supplies
Cooking on the road is part of the adventure. When I camped, most of my food consisted of peanut butter and oatmeal; however, many peopole have better taste than myself and prefer warm meals after riding. There are light weight cooking pans, utensils, and ways of making fire when on the road.
Bike Camping Cookstove Gear
10. Tent A tent large enough to fit yourself and your gear will be your last mission. Seeing that this will be where you spend your night, find a tent from a reputable company. Though all tents will be heavy, badly made tents will be heavy, bulky, and can easily blow away after you have set it up.
Alps Mountaineering Lynx 1 Person Tent Review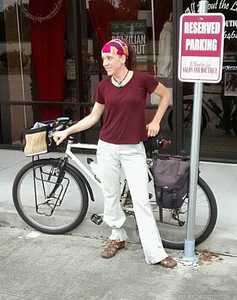 Honorable Mention: A Basket
If you are going to the local farmer's market or simply purchasing a book from a shop down the street, traveling with a tent will get you some strange looks. Instead of traveling to go camping, attach a basket to the front of your steel horse and presto! You're set. To elaborate on the various styles and dependability of baskets in the market, take a look at these
best bicycle baskets
.
Origin 8 Classique Cargo Unit and others Reviewed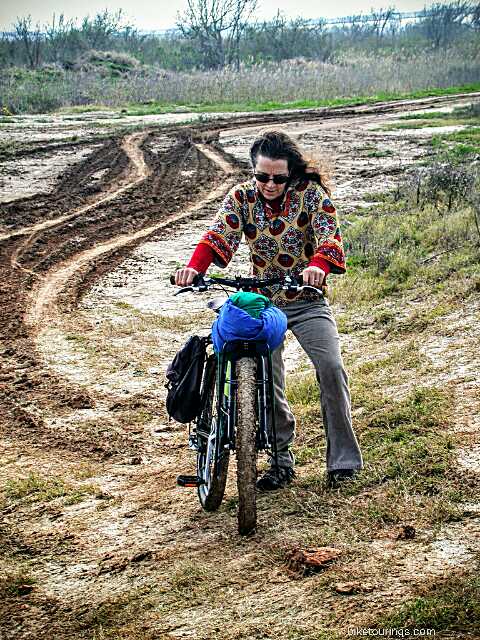 It wasn't that Lisa had packed too much stuff it was some tough thick mud to pedal through but she made it.