bike Commuting and Gardening for Health
Published on
Nov 06, 2017
Our friend Louie at WhatShed has thoughtfully put together a nice introduction followed by an infographic on the health benefits of gardening. This was his way of helping us promote our efforts at Natural Living Co-op and Garden. Thanks Louie! Click on photo at right in blog sidebar for more information about supporting our Natural Living Food Co-op and Cafe.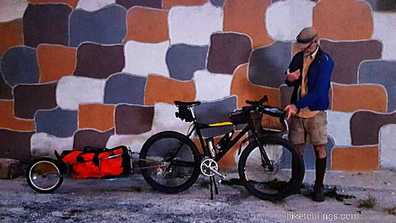 Now we know that you may be wondering why exactly Bike Tourings' have developed a set of green thumbs. But as well as getting out on the bike and encouraging you to do so, we are also all about that natural living and making sure you guys are taking care of yourselves. That is why we have teamed up with the people at
WhatShed
to share with you just how good gardening is for your mind, body, and soul. Plus the healthier you are the more years you are going to be able to spend getting out and about on your bike.
The stats when it comes to gardening do not lie. In terms of exercise, just a few hours of gardening is the same as working out in the gym! Only you have more fun, get some tasty food because of it and get a bit of mud on your face! Gardening is a great form of exercise and regularly tending to your plants, food and just pottering around the garden helps you reduce the risk of heart attacks and will in general help you live longer. The healthier you are, the more years you are going to be able to keep getting out on that bike of yours.
If you find yourself stressed out from work, family life or whatever. Gardening has been proven time and time again as being a real stress reliever that can help you get your mind straight and make you happy. Being happy is the goal in life and gardening is a really productive way for you to achieve that. Gardening really is great for your mind and body.
​Plus if you have been inspired by our blog post on having a touring bike that can be used for local food delivery, you can even make a little extra money by growing your own food, selling your own food, delivering it on your bike and then having more money to spend on your bike or your next biking adventure!