The Top 7 Mountain Bikes of 2017
Published on
Jan 23, 2018
Guest Post from MTBV (MTB Vacations)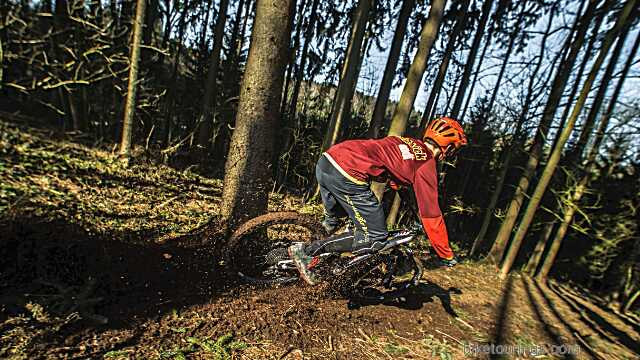 One of the most exciting things about late summer is seeing the updated models to your favorite bikes. Whether it's a complete overhaul, some minor geometry changes, or just new color schemes and designs, it's all fun to see.
Regardless of whether you're in the market for a new ride, or simply looking to do some window shopping, here's our list of the top mountain bikes of 2017.


1.  Santa Cruz Nomad
The
Nomad
has been an endure-smashing favorite for years now. When it was redesigned in 2014, bike park riders and enduro racers alike flocked to it for a stable platform through rough terrain and the flashy Miami Vice color schemes. For 2018's updated model, the color schemes are much more subtle, but the bike still serves its reputation as a downhill bruiser.
The Nomad has always been a bike for those that endure the climbs because there's a good descent at the end. This year, the Nomad is even more descent-centric. The head tube angle gets a half-degree slacker, and the rear wheel travel is increased by 5mm.
Santa Cruz is extending their model options from a base aluminum, to base carbon models, to their top-tier carbon option. You can get a base aluminum option for $3600, a base carbon option for $4,499, or spring for their premiere option with the new Santa Cruz Reserve carbon wheels for $9,399.
2.  Enduro Elite Carbon
Specialized has been staying on top of updates for the
Enduro
, which makes sense since Jared Graves and Curtis Keene both rely on the bike for several rounds of the Enduro World Series. For 2018, they're again offering a 27.5" and 29" option depending on your preference. There are some fun new updates for this year like SWAT storage in the steer tube for the S-Works, Pro and Coil models, as well as a dropper post update that tilts in the down position for more hip clearance.
The Enduro is still an excellent choice for, well, enduro racing. But, if you don't want to race, then it's still a weapon for people who focus on all-mountain or aggressive trail riding.
A base aluminum model starts at $3200 for a complete and runs up to $8,500 for an all carbon S-Works model.
3.  Scott Contessa Spark 710
As cross-country race courses get more aggressive, the bikes have to adapt as well. The
Contessa Spark
still prides itself on it's uphill pedaling ability, but now the 710 model brings a Fox 34 for added front end stiffness, and a 67.2-degree head angle so you won't be left behind on the descents when your friends catch up to you at the top.
The Scott Contessa Spark is for those who want to light up the climb and spend a day in the saddle, but still, want something that is comfortable and capable when things get steep and rocky.
A Contessa Spark 710 with a carbon frame and alloy swing arm and SRAM GX Eagle drive train runs $4,199.
Getting ready for your next adventure? Learn more about some of our favorite
mountain bike destinations
to help plan your next trip.

​
4.  Yeti SB5.5
When Yeti came up with the
SB5.5
in 2016, they had one thing in mind: getting through rough, chopped out terrain at stupid, high speeds. The platform and geometry they chose for this long travel 29er have been working so well, that there have been minimal updates for the newest models.
The SB5.5 can handle a diverse amount of riding. With 140mm of rear travel, it still makes for a capable climber, but also has 160mm in the front for downhill dominance. In contrast, the
SB4.5
is a more cross-country friendly 29" option from Yeti. With 114mm of rear travel and 140mm of fork travel, it's a great option for an all-day trail bike that can handle aggressive riding.
The Yeti SB5.5 starts at $4,999 for a complete carbon build with Fox suspension and a Shimano XT drivetrain and runs up to $8,199 with their Turq carbon frame option and a SRAM Eagle drivetrain.
5.  Intense Recluse
The
Recluse
, introduced in 2016, fits in a niche that many riders look for. It's enough travel to get through anything you really need to worry about, while not an overbearing amount to make you sweat the ascents more than you need to. Intense says it fits in their "all-mountain" category, and it's fair to say they're right.
With 140mm of rear travel, and a 75-degree seat tube angle, it's not a dead dog on the climbs. It's still no XC bike, but Intense has never been an XC minded company. That's why the Recluse still comes spec'd with a 150mm fork and 66-degree head tube angle.
A "foundations build" recluse will net you a carbon frame and SRAM NX drive train for $4,000 and the highest end "factory build" gives you carbon everything and a SRAM Eagle drive train for $10,399.
6.  Evil Bike's The Wreckoning
Over the past few years, Evil has built a huge following (no pun intended). Their bikes are built with aggressive riders in mind, the frame designs are unique, and they just look cool. The
Wreckoning
builds on their 120mm
Following
model's platform for a long-travel, 160mm 29er that is capable of damn near anything.
Bike park, freeride, all-mountain and enduro racers will start foaming at the mouth over the Wreckoning. It's large wheels and suspension platform will smash out boulders and thick roots on downhill tracks with no problem. It pedals well uphill but is still a 160mm travel bike, so you're not going to fly up the ascents. Once it's pointed down though, you won't care.
A frame-only option for the carbon Wreckoning starts at $2,899, while a complete build will run you around the $5,000 range.
7.  Rocky Mountain Altitude
One of the most anticipated model updates this year was the
Rocky Mountain Altitude
. Rocky Mountain freshened up their entire lineup this year and re-released the Slayer and the Altitude. The color schemes scream modern, professional and stylish and the updates make it more aggressive than the previous generation without forgetting that you still need to pedal to the top.
The Altitude rides a line somewhere between aggressive trail riding and enduro. 150mm of rear travel makes climbing feasible and 160mm of travel in the front makes the steep drops doable. It's a comfortable bike for those who need to spend a few hours in the saddle to get to a worthy descent.
Rocky Mountain is also bringing back aluminum frame options for price-conscious buyers. An aluminum base model will run you as low as $2,999 and a top of the line carbon is $7,299 with SRAM Eagle and Fox suspension.
How does this compare to your list of the top bikes of 2017? Are there any bikes that we missed on here? Feel free to leave a comment below or reach out to us on
Twitter
to share your thoughts.
Author Bio:
Mountain Bike Vacations
was developed by a team of mountain bike enthusiasts to share their insights on how others can make the most of their mountain bike adventures. For more, you can follow them on
Facebook
and
Instagram
.
---